Headlines own show July 4th for troops at Fort Campbell
(Nashville, TN – July 1, 2010)  Moxy Records recording artist Chelsea Field took a break from her hectic radio tour last week to open for chart-topping artist Easton Corbin on June 25 in downtown Louisville, Ky.
Field delivered an energetic set for a packed crowd that included her debut single, "Things I Should've Said," and a handful of new songs from her forthcoming full-length release, due out in the fall.  She also performed a pair of cover songs that are fast becoming staples in her set, Journey's "Don't Stop Believing," and Heart's "Alone."  The show was part of Louisville's summer concert series, Hot Country Nights, which is held from June 18 – August 27 in popular downtown entertainment district, Fourth Street Live.
Field returns to Kentucky this weekend for her own headlining show on July 4, when she performs for troops stationed at Fort Campbell, located on the Tennessee/Kentucky state line.  The free concert is a new addition to the Independence Day Carnival, which runs from June 30 – July 5 at Fort Campbell.  Other artists appearing on the bill include One Night Rodeo, Dan Varner Band and Sam Tate.  For more information, visit www.fortcampbellmwr.com.
Field's current radio tour has seen her visit stations in Tennessee, Kansas, Arkansas, Missouri, Kentucky, Ohio, Pennsylvania, West Virginia and Indiana.  Follow her progress on the tour through her ongoing series of video blogs at www.ChelseaFieldOfficial.com or her Youtube page at www.youtube.com/user/chelseafieldmusic.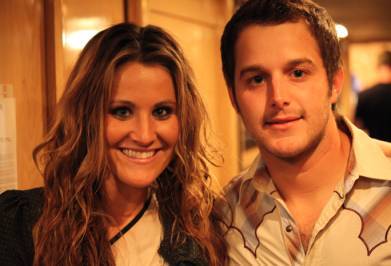 Moxy Records recording artist Chelsea Field (l) performed at downtown concert series, Hot Country Nights, with Easton Corbin in Louisville, Ky. on June 25.