"Digital Rodeo's Maverick On Music Row" to feature interviews, on-air performances from Nashville's 16 Ton Studios
(Nashville, Tenn. – Sept. 27, 2010)  Country music lifestyle site DigitalRodeo.com and London-based, online Country radio station CMR Nashville  have announced the formation of a strategic media partnership and resulting international radio show called "Digital Rodeo's Maverick On Music Row."
The one-hour radio show is recorded at Nashville's legendary 16 Ton Studios and will broadcast online at www.CMRNashville.com.  The first episode airs Tuesday, Sept. 28, with repeat airings throughout the week.  Former Mavericks bassist and current Digital Rodeo executive, Robert Reynolds, hosts the program, which features a mix of major label and independent Country acts selected from the thousands of artists registered on DigitalRodeo.com.  Interviews, unplugged live performances and creative play lists are points of emphasis on "Digital Rodeo's Maverick On Music Row," says Reynolds.  Archived episodes of the show will be available on DR Radio, the free online radio player featured at www.DigitalRodeo.com. Check www.CMRNashville.com for specific local air times.
"There are a ton of talented acts out there that never get radio play," says Digital Rodeo Director of Marketing and Promotions, John Pyne.  "Our goal is to provide those artists with a viable outlet for their music to be heard on the radio, and to expose the listeners to a much broader variety than what's heard on most Country radio stations.  We welcome any and all Digital Rodeo artists with radio-quality material to submit their music for inclusion on our show."
Adds Reynolds, "We want to be one of the first doors that open for these artists in terms of radio.  Digital Rodeo is fortunate to partner with a station like CMR Nashville to foster that kind of international relationship and growth.  We are looking forward to putting out a show that is unique in both its concept and its programming."
As part of the Digital Rodeo and CMR Nashville strategic partnership, Digital Rodeo is sponsoring one of the awards at the upcoming British Country Music Awards, to be held Oct. 10, 2010, in Surrey, England.
"I am so excited that Digital Rodeo and CMR Nashville have finally partnered on this project to offer artists and labels the opportunity to grow on both sides of the pond with like-minded companies offering their services," says CMR Nashville CEO Lee Williams.  "Like CMR Nashville, Digital Rodeo works tirelessly for the growth of the music we all love."
About DigitalRodeo.com:
DigitalRodeo.com is the premier country news, music and lifestyle site for country music fans everywhere.  Community membership is free and offers fans and artists alike the opportunity to connect with each other, upload and download audio and video, watch exclusive DigitalRodeo.com content and stay updated on what's happening in the world of country music.  For more information, visit www.DigitalRodeo.com.
About CMR Nashville:
CMR Nashville is celebrating its fifth year broadcasting 24/7 from the U.K.  CMR Nashville broadcasts a variety of programming, including Nashville-based WSM's "Music City Roots" and "Bluegrass Underground," Texas' "CDTEX Show," "American Driver Show," "Café Nashville" and shows from Germany, France, Brazil, Canada and Australia.  The company also offers three additional stations of DJ-free music: CMR Hot, CMR Memories and CMR Americana.  CMR Nashville, CMR Hot, CMR Memories, and CMR Americana are the trademarks of Django Promotions.  CMR Nashville is licensed annually by PRS for Music.  Visit www.CMRNashville.com for more information.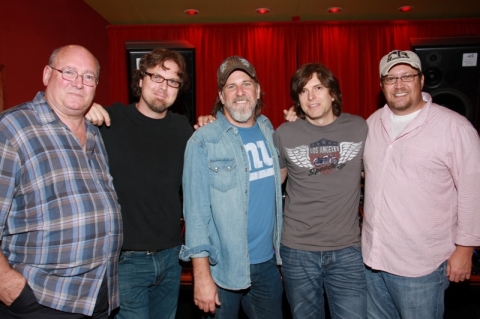 Pictured l to r: CMR Nashville's Lee Williams, Digital Rodeo's Scotty Huff and Robert Reynolds, artist Brady Seals, Digital Rodeo's John Pyne.  Photo: Bev Moser.