"Train Wreck" dance mix and custom line dance a hit in clubs
(Nashville, Tenn. – March 5, 2012) Country artist Marlee Scott is celebrating the iTunes release of her new "Train Wreck" single and the world premiere of the song's music video across several prominent CMT platforms this week.
Marlee's "Train Wreck" officially world premieres today, March 5, in conjunction with the release of the new CMT Insider application for iPad.  The app gives Country music fans an exclusive first look at Marlee's new music video, directed by CMT Director of the Year award-winner Roman White (Taylor Swift's "Fifteen," Blake Shelton's "Hillbilly Bone," Lady Antebellum's "Hello World").  The CMT Insider app is also available on iPhone, iPod Touch, and Android devices.
On Tuesday, March 6, the video is set to premiere on CMT's digital television channel, CMT Pure, as well as CMT.com and the homepage of its CMT Mobile site.
"Marlee is a young, emerging artist who has done a good job of promoting her music across several platforms – new and traditional," said Stephen Linn, CMT's Senior Director, Music Programming and Promotion.  "That's one reason we think world premiering "Train Wreck" across our various platforms like the Insider app, CMT Pure and CMT.com will work well for the video."
Produced by David Kalmusky, the tongue-in-cheek "Train Wreck" single debuts for purchase on iTunes on Tuesday, March 6.  A high-energy dance version, produced and remixed by Allen Morgan, will also be available for purchase.  The dance remix has been received enthusiastically at clubs across the country, thanks in part to its custom choreographed "Wreck'd" line dance.
Featuring a guest appearance from Vince Gill and written by acclaimed Nashville songwriters Marcus Hummon, Jedd Hughes and Sarah Buxton, the up-tempo single has been steadily moving up the Billboard, Aircheck and Music Row Country radio charts for the past several weeks.  "Train Wreck" is the second release from Marlee's debut album, due out in the coming months on Big Ride Records.  In 2011, the Nashville-based singer introduced herself to Country radio with the uplifting anthem "Beautiful Maybe."
Marlee has already visited more than 100 radio stations on a nationwide radio tour in support of "Train Wreck."  She made several appearances at prominent sporting events in 2011, including the Breeders' Cup World Championships, the Clemson/Virginia Tech college football ACC Championship game and several MLB baseball and NHL hockey games.  She also launched her "Make It or Bake It" webisode cooking series.  The humorous videos (view them here) feature some of Marlee's favorite food and drink recipes.  Her latest installment is a rum-based concoction called "Super Hot Chocolate."
Visit www.MarleeScott.com for music, tour dates, "Make It or Bake It" episodes and more.
About Marlee Scott:
Big Ride Entertainment artist and Nashville resident Marlee Scott is set to release her debut album in 2012.  Her current single, "Train Wreck," is quickly rising up the Country charts and follows her successful 2011 single, "Beautiful Maybe."  Marlee's "Train Wreck" music video world premiered across numerous CMT platforms on March 6.  Her 2010 single, "Here to Heaven," was an international success, going Top 20 in Australia and Canada and No. 1 in England, Germany and Holland.  For more information, visit www.MarleeScott.com.
Big Ride Entertainment artist Marlee Scott poses on the set of her "Train Wreck" music video with director Roman White (l) and CMT's Stephen Linn (r).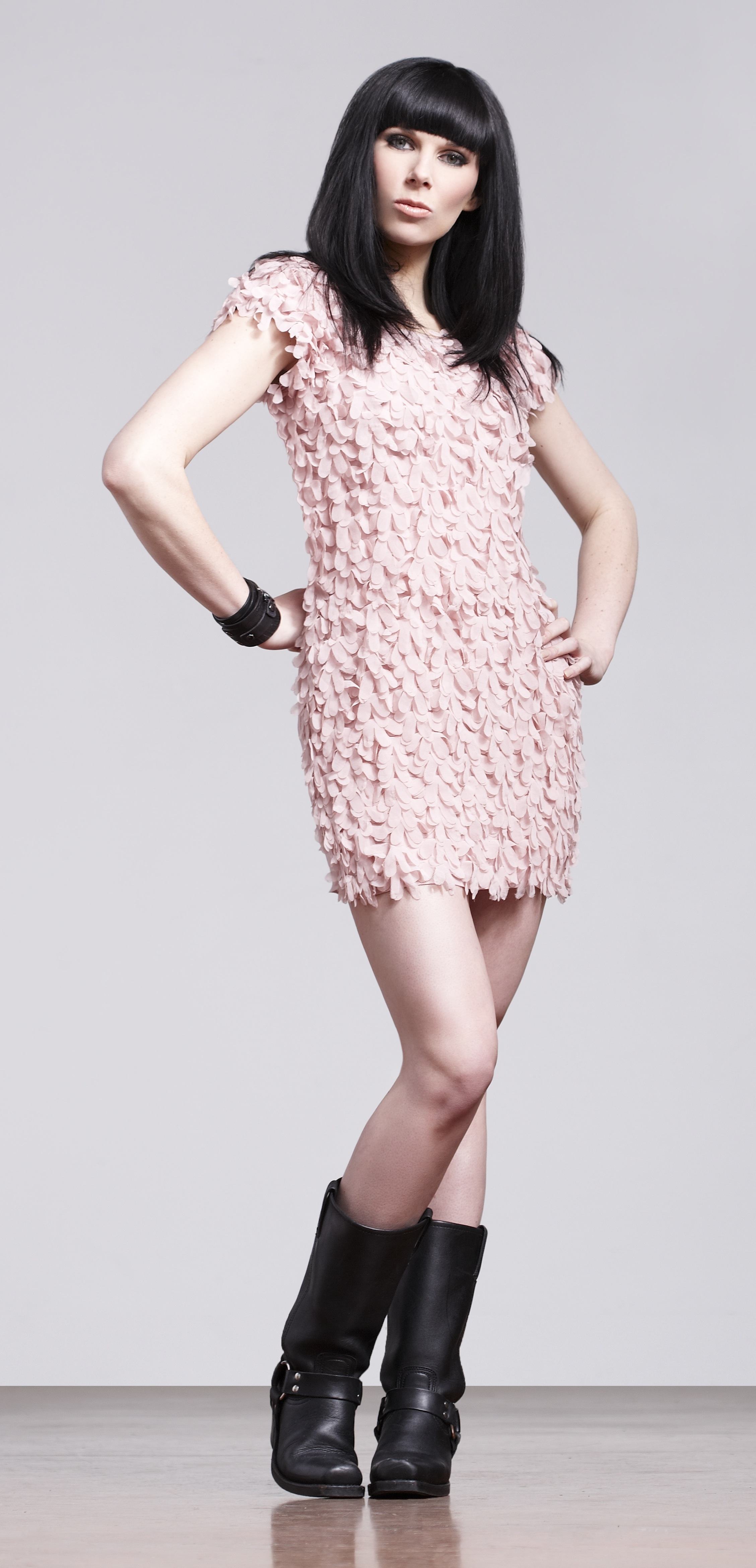 Big Ride Entertainment artist Marlee Scott.  Photo: Dexter Quinto