Nashville Meets London – Hi-Res Logo (jpg)
Nashville Meets London – Promo Graphic
Nashville Meets London – Individual Artist Graphics
Canary Wharf – Logo
Canary Wharf – Website
TNECD – Logo
Nashville Meets London Socials:
NML – Twitter – @NashMeetsLondon
NML – Facebook – @NashvilleMeetsLondon
NML – Instagram – @NashvilleMeetsLondon
Canary Wharf – Twitter – @YourCanaryWharf
Canary Wharf – Instagram – @CanaryWharfLondon
TNECD – Twitter – @TNECD
TNECD – Facebook – @TNECD
Official Hashtag: #NashvilleMeetsLondon
Canary Wharf Location – Photos
Artist Photo Links:
Russell Dickerson – Press Photo
Lucie Silvas – Press Photo
Sam Outlaw – Press Photo
Ashley Campbell – Press Photo
Jo Smith – Press Photo
Angaleena Presley – Press Photo
Raintown – Press Photo
Flats & Sharps – Press Photo
Kevin McGuire – Press Photo
Wildwood Kin – Press Photo
This year's talent lineup includes US-based acts Russell Dickerson, Lucie Silvas, Ashley Campbell, Sam Outlaw, Angaleena Presley, Jo Smith, along with UK-based acts Flats & Sharps, Wildwood Kin, Kevin McGuire, and Raintown.
Dates for the 2017 Nashville Meets London Music Festival are July 22-23, 2017.  The event is free and open to the public.
The Tennessee Department of Economic and Community Development (TNECD) serves as a sponsor of the two-day event, designed to bring the "Music of Nashville" abroad, showcasing musical talent from both Nashville and the United Kingdom. The festival is free and open to the public to attend. Representatives from TNECD will be in attendance for this year's event.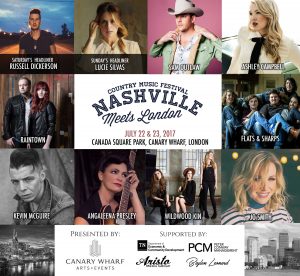 About Canary Wharf Group: Canary Wharf Group plc has overseen the largest urban regeneration project ever undertaken in Europe, designing and building more than 17m sq ft of London real estate, which now houses local and international companies and renowned retailers. The Canary Wharf Estate is a major retail destination comprising around 1m sq ft across five shopping malls, including the award-winning leisure development, Crossrail Place, housing one of London's most stunning roof gardens.  It also has world-class, year-round arts and events programme offering over 200 diverse and culturally inspiring events performed throughout the Estate. Canary Wharf Group is a wholly owned joint venture between Brookfield Property Partners and the Qatar Investment Authority.
About the Tennessee Department of Economic and Community Development:  The Tennessee Department of Economic and Community Development's mission is to develop strategies, which help make Tennessee the No. 1 location in the Southeast for high quality jobs. To grow and strengthen Team Tennessee, the department seeks to attract new corporate investment in Tennessee and works with Tennessee companies to facilitate expansion and economic growth. Tennessee is the only three-time winner of "State of the Year" for economic development by Business Facilities magazine. Find us on the web: tnecd.com. Follow us on Twitter: @tnecd. Like us on Facebook: facebook.com/tnecd.